Come and enter into the calm oasis – take a break from your daily life. This time is just for you to rest, relax, and rejuvenate. Tensions are easily released from your body, mind and soul.
Each Jin Shin Jyutsu acupressure session focuses on your concerns and brings peace and ease into your life. And every session is a little bit different – even if you've been before. Through gentle touch, we improve your general well-being.
Jin Shin Jyutsu
reduces pain,
helps with acute and chronic conditions,
reduces stress and fatigue,
promotes immune function,
improves sleep and digestion,
supports emotional balance,
expands consciousness, and much more.
What happens in a session?
We start by talking about what has prompted you to come for a session. This includes a short health history and anything you wish to share about your current life and concerns. If you need any adjustments (such as sitting instead of lying down), I can accommodate them.
You can ask any questions about Jin Shin Jyutsu that you like – I'm very happy to answer them and to help set your mind at ease. I understand that it may be a new experience for you and I respect your needs and preferences.
During the session
To begin your session, you lay comfortably on the padded treatment table fully clothed. You need only remove your shoes and your watch.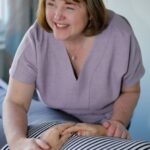 To begin the session, Jackie checks the energetic pulses on your wrists. Throughout the session Jackie lightly places her hands on specific energy sites on your body in sequences called flows. These flows include safety energy locks on your body from your head to your toes. The session lasts about an hour.
After the session
After your session, you can ask questions and learn self-care tips. You can extend the benefits of the session by doing DIY JSJ at home.
I recommend you rest after the session, if possible. You can also help yourself by drinking water during the rest of the day.
You can call or text with any questions after your session.
Your Investment for a full Jin Shin Jyutsu appointment: 1 hour for 60 euros – discounts available for wellness bundles.
Join Jackie for a bit of Jin Shin Jyutsu bliss.